E-motions… all writers should understand the affective state of consciousness, happiness, fear, hate, gratitude, desire, denial etc., to the best of their ability. One of the reasons I chose the studies in counselling and now in families and community service is so I have a devoted understanding of the framework of human development, vulnerability and behaviour, but also how society and the system sometimes shape us.
I could have opted for a fine arts or creative writing degree but I don't choose to write literary, however, I do choose to stay in the most relevant and current space for understanding people, relationships with ourselves and others. The gratitude from the people towards myself and the people I work with is a real indication of the support and assistance, the hope we provide to people from all walks of life. And in the many years of service within the community from the age of 19, either volunteering for many different organistions or working in the support service field, I do have a real faith in those people willing to support our global society.
Yes, we see the harsher side of our society sometimes, and it's not all fun, but we also see a lot of good too.  Like I've said many times, I'm always very grateful to people who go that extra distance to thank me. I always acknowledge those who provide those moments of vulnerability by saying thank you in whatever way they choose.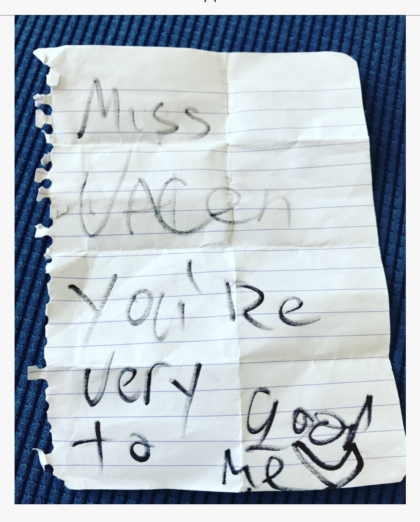 A young client thanked me like this.
I always felt the formality of a literary education would disrupt my own organic development as a creative writer. Yes, the process of finding my voice has taken longer, but I learn as much from reading and self- analysing text so I'm happy with that. That doesn't mean these types of degrees aren't amazing, they are, just not the right fit for me. I sway towards humanitarian studies and always will.

For Writers
Be diverse in your writing even if that work doesn't fit the "popular format" because it's important to stay relevant to today's people, communities and societies. The world deserves more than just a bestseller. It deserves a bestseller that has the power to influence people to become more than just a robot reader.  Think a little deeper.
A wonderful article all writers should read today. Publishing risks 'becoming irrelevant' warns Penguin Random House boss. Find the link here.
So trust yourself on a deeper level and don't simply be a writer of words. Be a writer of relevance.
So until next time. Be brave and bold in your chosen field of creativity. And never be afraid to explore new techniques.
Save
Save
Save
Save
Save
Save
Save
Save
Save
Save
Save
Save
Save