The white line on the bitumen road disappears as I drive the car onto a red dirt road.  Out of the car window,  a huge white letterbox in the shape of a horse sits waiting for all the arriving guests to pass. As the car edges closer to the homestead I can't help but scan the picturesque countryside with its lush, green grass dotted here and there with bottle trees.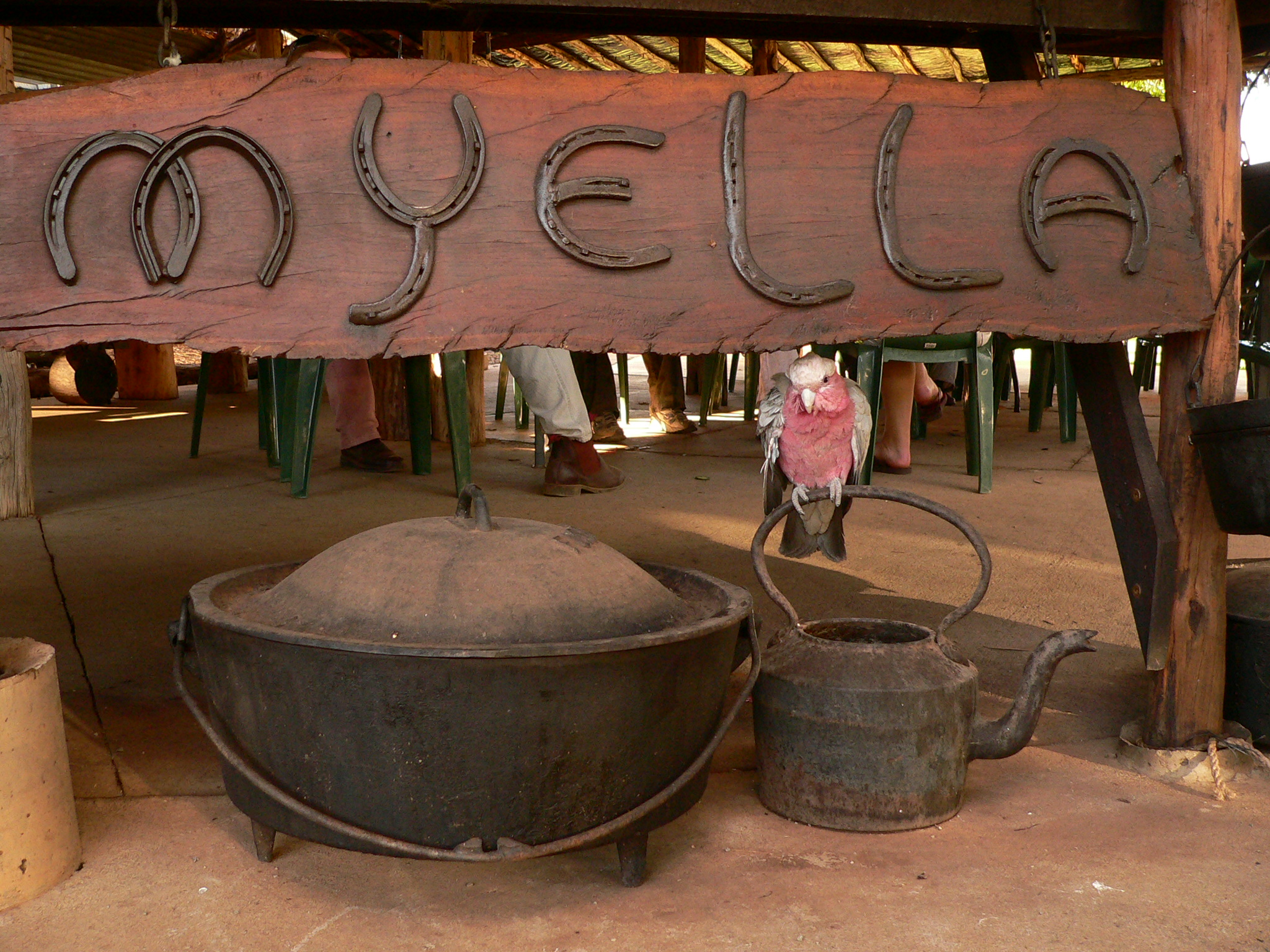 Myella Farm is roughly about a two hour drive from the city of Rockhampton. The brochure describes the farm as consisting of 2600 acres of land where 300 beef cattle and 25 horses graze.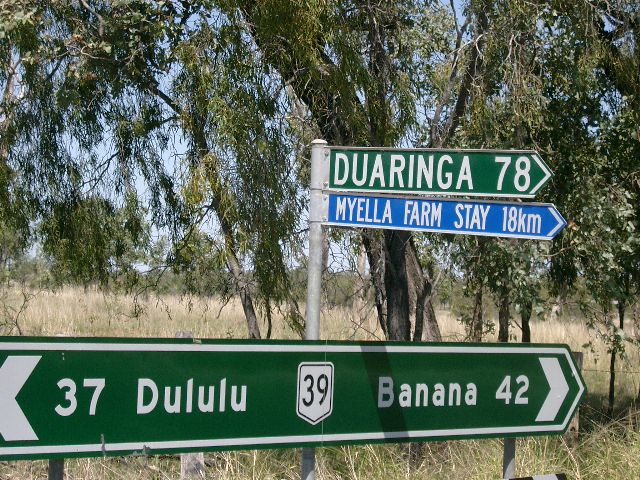 As the car rolls to a halt I watch a woman driving a large ride-on lawnmower. I find out later her name is Olive. She waves as she skillfully negotiates the machine around trees on the grounds surrounding a large open shed. I park the car and walk towards the homestead.  As I walk along I hear a little voice cackling away to itself.
Lyn Eather (owner) greets me with a broad country smile. I'm full of questions about the farm so Lyn suggests a talk about the farm. We walk towards another house behind the large shed. On the side wall of this small house, open to the public, is all the information (including the history) about the farm.  To my surprise Myella was won with a 9 pound ticket in a lottery in 1935 and in the 1940's the land was used to produce cream and butter for England.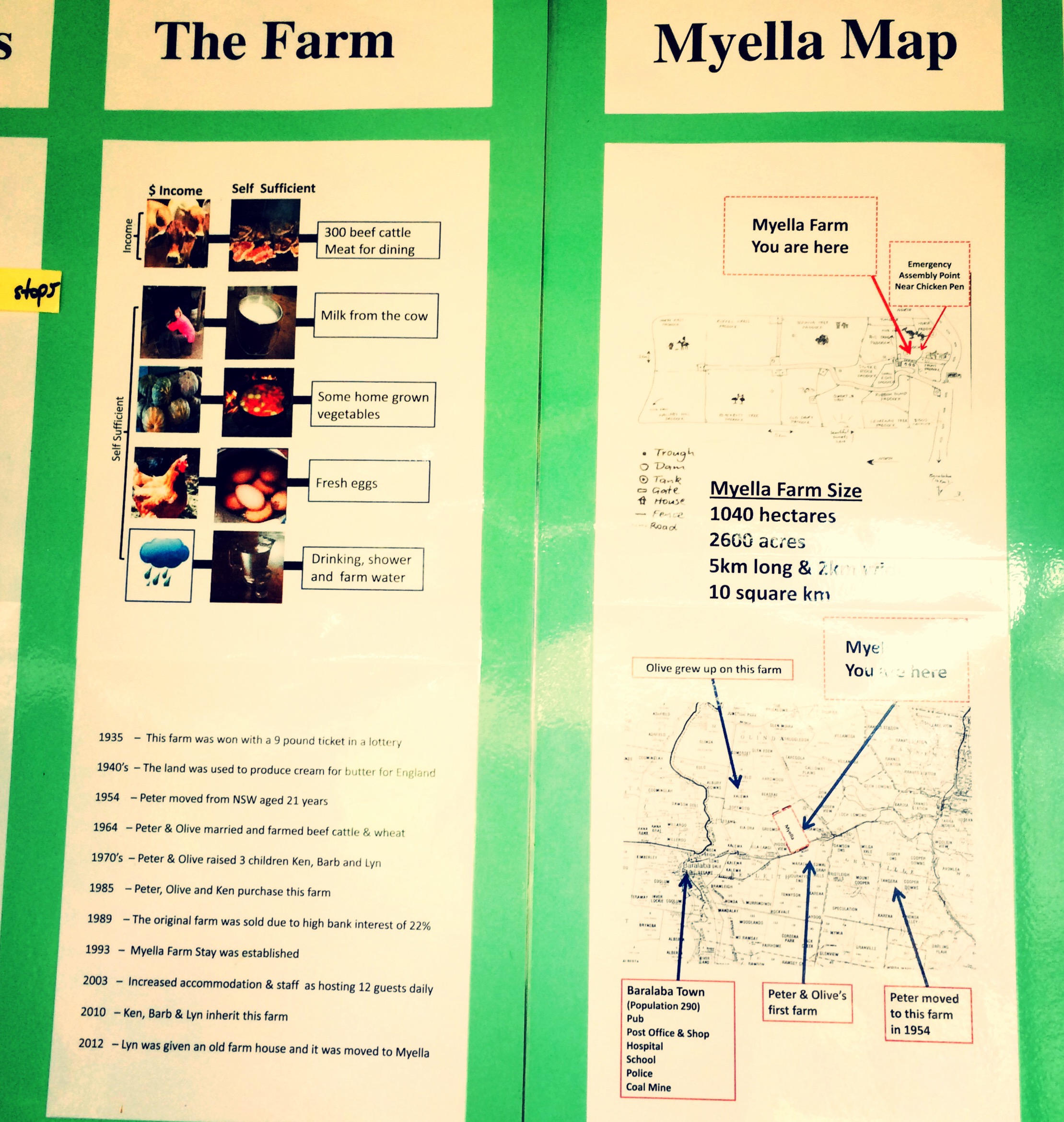 Myella's history.
Lyn and I walk back to the spacious open shed where we sit down to have morning tea. It is the first of our home cooked meals beginning with raspberry and coconut slice and then banana cake all washed down with a cup of hot tea.  There I meet Olive (Lyn's mother) and then Peter (Lyn's father). All through our conversations I continue to hear this little cackling voice.  I turn to Olive and say "Is that a cockatoo I'm hearing?" Olive confirms my suspicions. She takes me to meet Harry an almost naked cookatoo who says, "What's your name?"  Olive explains they have two birds, Harry No Feathers and Pink Floyd.  She says, "Neither of them can fly but they can talk. Both can say, what are you doing, huh, hello, what's up, bye bye, hello Harry, good boy and bonjour."
We finish morning tea and Peter then takes me on a drive around the property. Part of this experience is opening and closing gates for the four wheel drive to pass through. I'm reminded of my childhood, indeed I had opened and closed many gates as a young girl.  I meet some horses as I open the second gate, giving one a pat before I walk on to open the next gate.  Peter talks to me as he drives, telling more about the history of the farm and the clearing of the land by hand. He points as he tells me all about the different vegetation on Myella. I spot a kangaroo in the distance and as the car approaches several more come into view.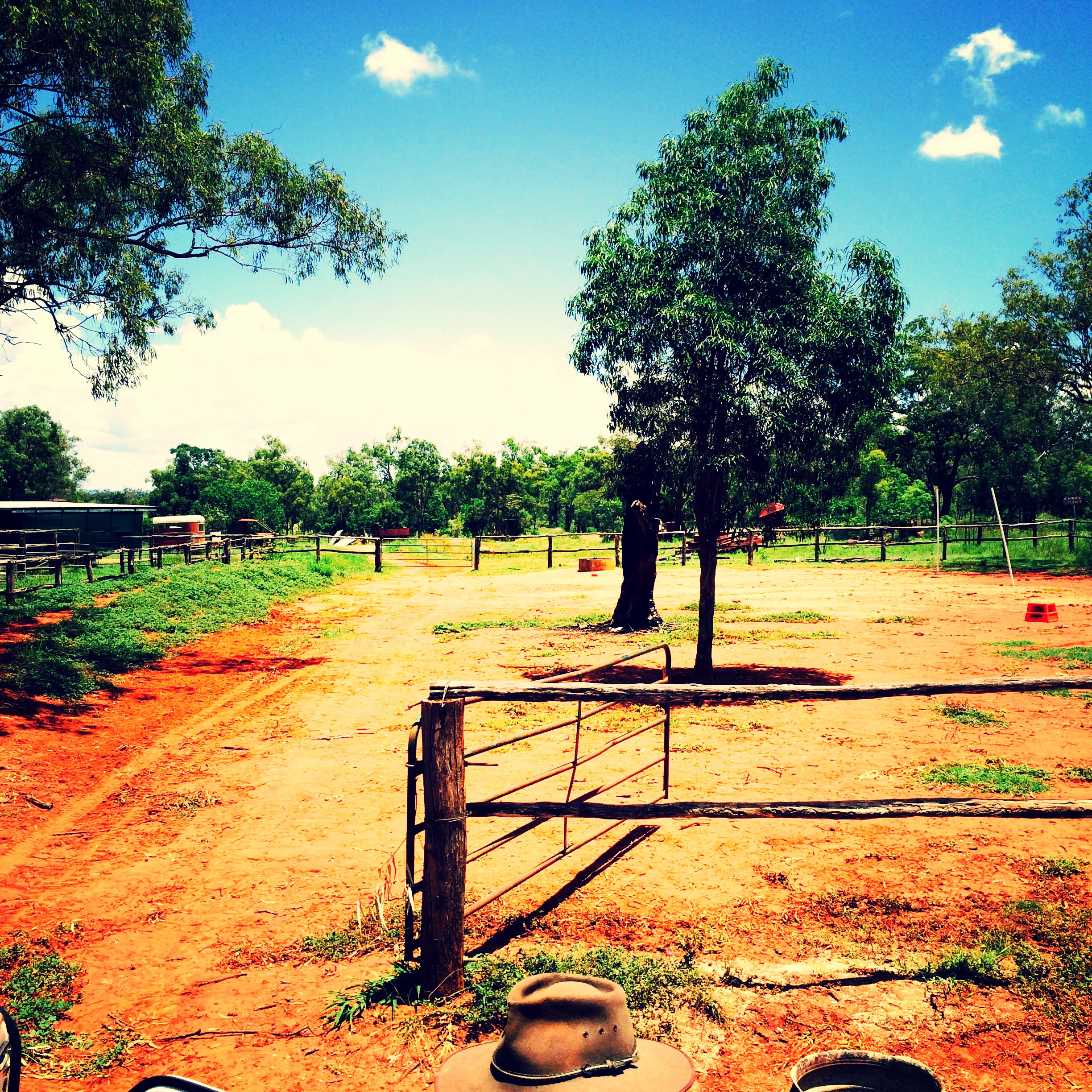 Driving through one of the gates on the property.
A slow drive through the stunning Australian bush is an offering that everyone should experience just once in their life. We head into the surrounding paddocks, which beckon with a variegated green patchwork landscape with a solitary bottle tree standing tall as if this picture was one of those jigsaw puzzle featuring stunning landscapes.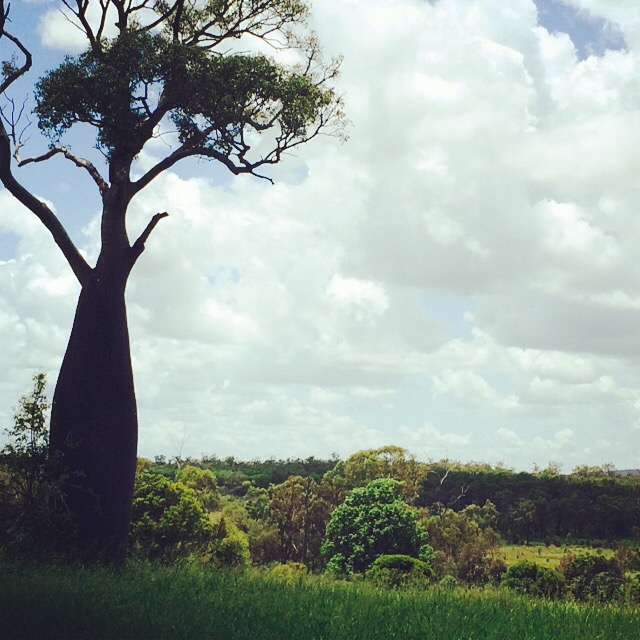 A bottle tree growing on Myella farm
The country is wet, saturated by the recent heavy rainfalls and this makes the drive a little slippery until the red earth swallows up the wheels and the four-wheel drive comes to a stop. We can go no further.  This adds to the experience of the day, reminding me of the obstacles farmers face in their everyday life on a working farm. Peter calls through to the homestead and we walk back to the last gate and wait for someone to pick us up.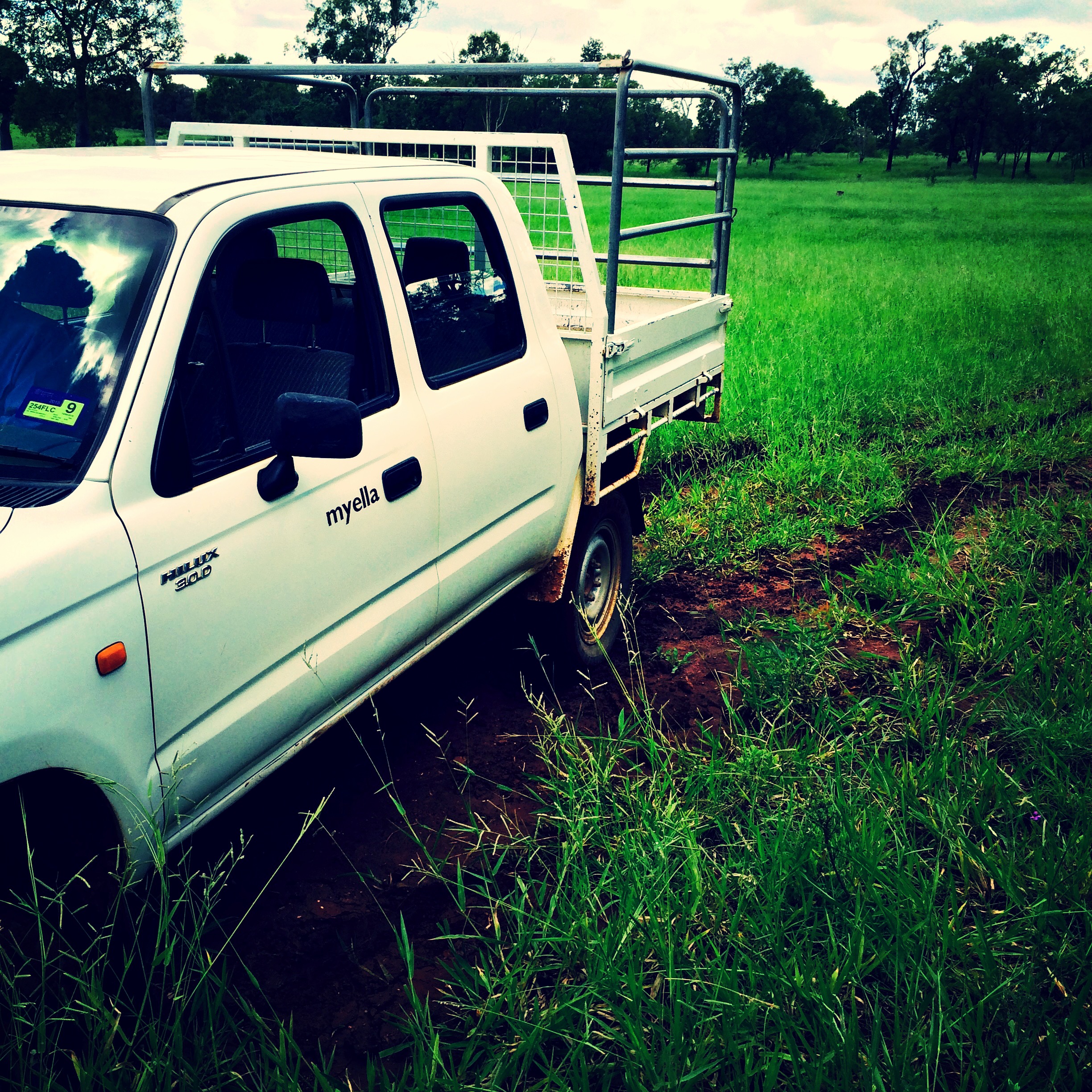 Four-wheel drive bogged in the red earth.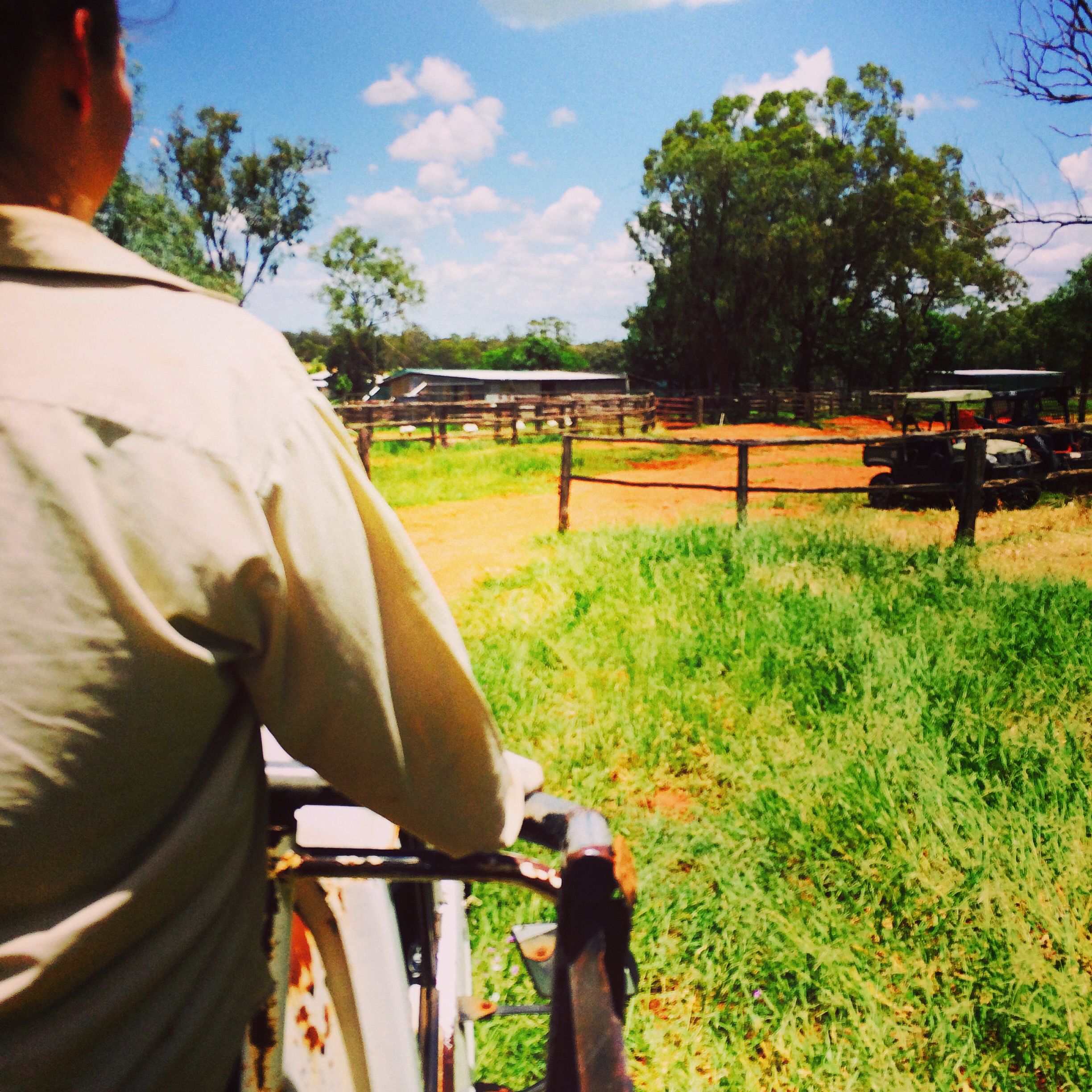 Heading back to the homestead in the back of the ute.
When we arrive back lunch is served. I sit at a large table with Lyn, Olive and Peter and it doesn't take long before we're joined by two young men, German backpackers, a young lady, called Lizzy from Holland and two of Myella's farm hands.  This wonderful country experience, perfectly matched with wholesome home cooking and fabulous country hospitality is the perfect way to enjoy a day, a week or a month.
With all the activities available to guests staying at the Myella, it's a farm stay that suits those looking to experience the country life on a working farm. There is something for everyone. If horseback riding isn't your thing then there's always motorbikes to ride. Guest can milk a cow, feed animals, take the farm tour in the four-wheel drive, swim in the pool or simply relax and enjoy the peace and quiet of the country.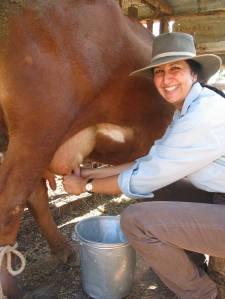 The accommodation is clean and has everything you need to make your country stay comfortable. Twin or double rooms and multi rooms are available. Guests can even choose to camp if they wish. Yes, there is a television, internet and a large swimming pool so that covers everything for the children. Lyn and her family have even included a smoking area for those staying at the farm too.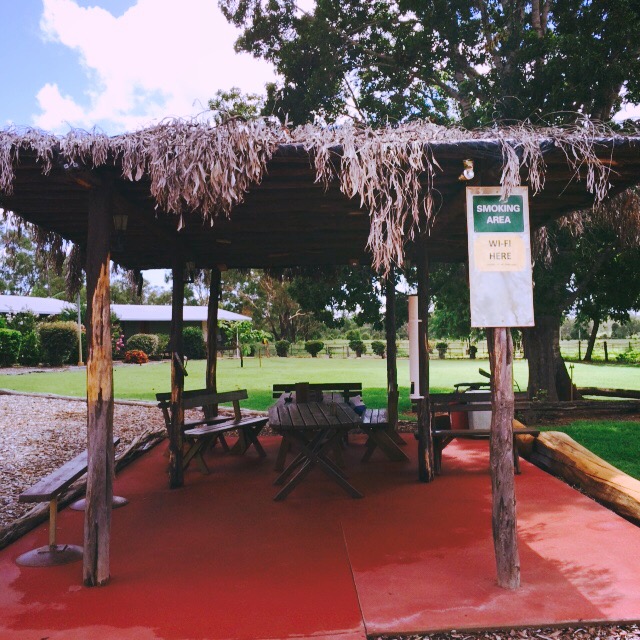 While my visit to Myella is only for a short time, it is a memorable experience. It gives me, the country girl who grew up riding horses and shifting irrigation pipes, who now lives in the city, a chance to take a deep breath and enjoy the sights and smells I so often miss.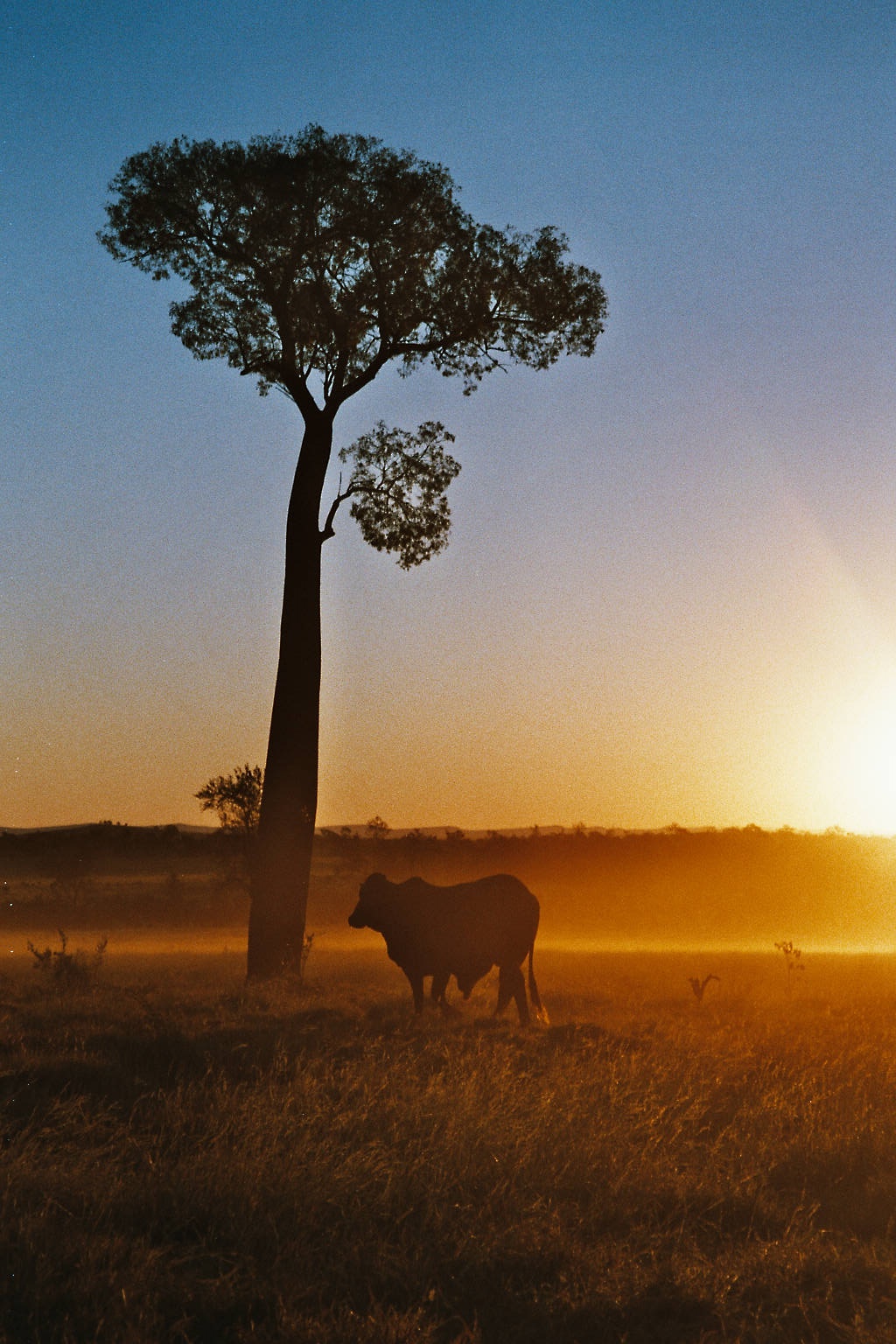 Sunset at Myella
Myella is the perfect representation of good country living. It is a place where anyone can come and stay and feel at home. Whether you are a backpacker, sole traveller, tour group, or have a large family there is a wonderful experience waiting for you at Myella.
If you like to know a little more about the Myella Farm Stay check it out on YouTube here.
Better yet visit their website here
Or just stop in and say hello on Facebook here.
So until next time. Be brave and bold in your chosen field of creativity. And never be afraid to explore new techniques.