Today I'm delighted to be interviewing Jeff Hall.
Thank you for allowing me to interview you today, Jeff.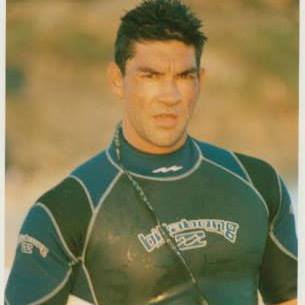 Jeff Hall
You're very welcome. Thank you for the opportunity to share my experience with you and your readers.
Firstly, when and why did you become a personal trainer?
I became a personal trainer at the age of  27. The decision to become a PT came off the back of two previous careers in hospitality and the building industry.  I woke up one day knowing I needed to change my career.  I knew the dissatisfaction in my working life was alleviated by training in the gym. I guess, I realised what I should do.  I took advantage of knowing what made me happy and enrolled in a personal training course that day. I've been a personal trainer ever since. That's for 22 years now.
Training wasn't new to me though. I had always been a sports minded person. In my young days I was an athlete. I played representative football in New Zealand and I was a sprinter. However, I was forced out through injury.  Playing too much. So, I lost my sports career which I wanted as a young man.  That's when I shifted my focus from the rugby field to the aerobic floor. I'm sure people came to my classes to laugh at me though. That's where my hand and foot coordination needed work. I progressed from there into group exercise, circuit training and weight training. This is when I started to become more involved in the industry and excelled from there.
You also teach fight fit classes at World Gym Ashmore. Can you tell us a little about the differences between weight training and boxing?
Weight training and boxing training are equally important, however, the two of them clash. If you do too many weights it's very hard to box because you are stiff and tight.   Boxing is more relaxed. You are relaxing your muscle groups. In this discipline you're using a lot of fast twitch muscle fibres. In weights you're using  slow twitch muscle fibres. You see muscle mass restricts movement.  I enjoy both disciplines and  both are beneficial if they are practiced correctly. However, you can't be a bodybuilder and a fighter at the same time. For example, if you are more interested in boxing you would go lighter on the weights and do more boxing training.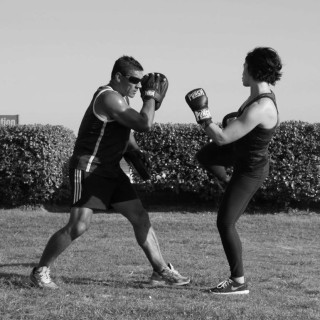 Jeff teaching boxing.
Why do people need a personal trainer?
A lot of reasons, but mostly, people don't understand how to do these exercises without hurting themselves. They want to know how to perform each exercise correctly but don't want to spend the time researching how to do it themselves. Some people just want to pay a professional with the knowledge to train them properly. Some people aren't motivated enough to train on their own. They need someone to stand by them to make them work. Some corporate people like to train because it helps to relieve stress, but they like a personal trainer to guide them through a tailored exercise program. Other people are referred to a personal trainer by a medical practitioner. For example, a person might be referred by a physiotherapist after a sporting injury. So there are lots of different reasons and benefits from having a personal trainer.
In researching for this interview I read a lot of different personal training websites. I looked at specific questions people should ask a personal trainer before they commit to training with them.

What questions do you think people should ask when searching for a personal trainer?
Yes, okay. The first thing you should ask them is how long have they been in the industry (how experienced are they) and what qualification do they have? Do they have a cert IV in Personal Training or a Diploma of Fitness or a Bachelor of Sports Science?  Do they have a sporting background? I'll tell you why that question can be important. Trainers with a sporting background know what it's like to be coached. They know and understand exercise drills, rehabilitation, sport specific training to strengthen muscles in particular areas and they understand the human anatomy better through experience. Most people have an imbalance in their body, a weak side and a strong side. Everyone has a problem somewhere and an experienced trainer can spot those weaknesses and stretch the tight spots and strengthen the weak spots.
Another question would be are they qualified in nutrition? If you want to get a result from a trainer they will need to know and understand nutrition. You can train five days a week, eight hours a day, but if you're not eating correctly you're not going to lose weight or change body shape as much.  If your nutritional prescription is wrong you're not going to burn fat or put on muscle, depending on what you want from your training. 75% to 80% of your training is nutrition based and eating correctly. That doesn't mean starving yourself. It means eating the right food at the right times. You still get lots to eat and it's not about not eating sugar or the bad things. I believe in everything in moderation. A good trainer will incorporate a little of your cravings but most of the food is govern by weight and proportions.
Other good questions.  Do you understand stretching techniques? How experienced are they in core strengthening, like pilates.
Along with all the above relevant qualifications in personal training a personal trainer should have a current first aid and CPR certificate.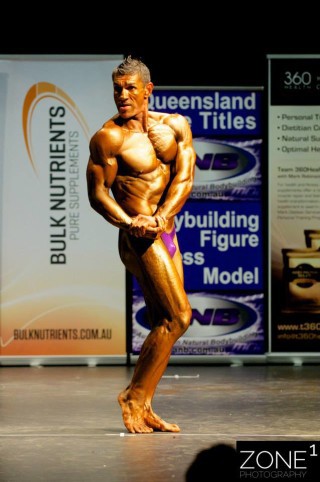 Jeff in a bodybuilding competition.
How important is it for clients to tell a personal trainer about their concerns, limitations or desired results?
When someone comes to a trainer, and this is protocol when anyone comes to any health professional, they do a medical lifestyle screening, a medical questionnaire.  The trainer takes their personal information and that includes the family doctor, any preexisting conditions and so on.  The trainer will enter this information into a data base. Then clients will be asked to fill out a medical questionnaire which goes into more depth about their history.  A trainer needs to ask the person about injuries and illnesses because having this knowledge will give the trainer the opportunity to design a structured program without injuring the client. A good trainer listens to their client's concerns.
What is the most common mental challenge you find clients struggle with? And how do you help them to overcome these mental struggles?
Good question. I think it's a few things. Anxiety, confidence, overwhelming shyness to perform in front of people and lack of self-esteem. Depending on their background, their current situation for example, they might be in an unhappy relationship, be overweight because of a particular reason, be unemployed but trying to improve themselves or stressed and come to the gym to release some of that stress.
There's a few basic things I do to help. Firstly, open them up to the communication process and help them to learn how to breath properly when they feel anxious. I would challenge them with small things first. Then increase the difficulty of the exercise in small increments. Positive encouragement is also very helpful for motivating clients to get through a session.
Diet and lifestyle changes are part of becoming a healthier person. Does that mean you give up all of the naughty treats like chocolate etc?
No way, that's my opinion anyway. Depending on your goal of course. With women they want to lose weight and be nice and lean, not put on too much muscle, stay feminine looking.  Realistically, it's about calories in and calories out. If you are aiming for a goal, in sport, a bodybuilding competition or a high level Olympic type situation, then yes, it's about maintaining fuel for performance and diet is extremely important and quite strict.  However, for the general public, everything in moderation is okay.  I don't tell my clients they can't have this or that, but I do monitor their quantities and see how severe the habit might be. I treat my clients every now and then with their favourite treats. However, to get results or reach their goal clients need to be eating correctly. I do like to give clients a cheat day and let them have something special to spoil themselves but it's monitored carefully.
If you were to tell my readers some important advice about personal training what would it be?
Everyone is different. Having a personal trainer is a luxury. It's expensive. So, a good trainer is going to cost you around $80  for an hour, $70 for 45 minutes, for a good trainer. If you invest in a good trainer you should get a good result. But you also have to be serious with your trainer.  You need to understand you have work to do after the training session. You need to learn from your trainer.  Each person should get their trainer to develop a small program for when they are at the gym by themselves. The program activities clients learn with their trainer can be utilised when they are training by themselves and these exercises will help them move towards their goals.
Next week in part two of What you need to know about #PersonalTraining Jeff answers questions sent in to me by my friends and my readers.
Jeff is a trainer at World Gym Ashmore.
So until next time. Be brave and bold in your chosen field of creativity. And never be afraid to explore new techniques.