I've been tagged to take part in a blog hop by the fabulous  V. A. Givens  @VAGivens — definitely worth following on Twitter sharing words of inspiration, quotes, photos  and some laughs, too.  I'm always happy to answer questions so feel free to ask. So, here we go!
What are You Writing?                         
Right now I'm writing my first comedy. A novel. I probably should have done this by now, but my stories tend to present themselves when they are ready.  For me, the triggers to a story presenting itself mentally can be anything from a song, a street sign or even a person telling me something. Once the trigger is pulled (so to speak) the story presents itself over a period of several days. Usually it's fully formed visually (clear mental story) by the next few weeks.
My current story's trigger came about when I was volunteering at an event. A funny conversation was relayed to me and by the next day the story's visuals were beginning to flow. The best material comes from real life and it's all around us. This is one of the many reasons why I'm so actively engaged in the community. There is nothing more inspirational then being around people from all walks of life.
 How Does This Differ From Your Last Work?
Oh, it's very different. My last manuscript was an Australian YA. It was about a small town teenage girl whose life is thrown into turmoil when her mother is released from a psychiatric hospital and returns home. The trigger for that  book came from a conversation I had with a young man on an outreach program I volunteer with on a regular basis. While the story I've written has nothing to do with his situation there was something, perhaps it was his desperation, or his confusion that crossed over to me. Whatever it was that channelled between us, being part of the conversation ignited a story.
Why Do You Write?
The stories present themselves and I write them. Everyone needs to be taken on an adventure or a journey occasionally. I'm just grateful to be a conduit or the channel between the words and the readers.
What is Your Process?
I'm a very disciplined writer when I begin a story. I usually purge a first draft in about two to three months of constant writing. Then I let it go. I don't look at it for a few weeks. Then I go back over and begin to flesh everything out.
If the work is the continuation of a series my writing process is much different. I usually spend time on research, character sketches, story outline, timing, land formations, maps etc. But the story itself is generally fully formed prior to beginning. I then begin writing, some of the structure or situations may change, but generally it is all worked out in my mind prior.  And with every book I write I grow a little bit more as a writer. Growth should be your constant companion when you are a writer.
I don't edit as I go. I purge and then go back . Once I have the first draft to work with then I start to flesh things out.  I may do two or three drafts on a manuscript, fixing things as I revise the writing. But personally, I don't like to edit my own work. I prefer a new set of eyes over my writing. Then I work through any edits that need attention. I'm very blessed to have a wonderful editor who I respect, and we have a wonderful working relationship.  Finding a good editor is often hard, but when you find a good one, please,  give them the respect they deserve.  🙂
What Advice Do You Give Yourself When it Comes to Writing?
Never give up. And I always say at the end of every blog post I write.
Be brave and bold in your chosen field of creativity. And never be afraid to explore new techniques.
Books written by me.  Starchild Book One: The Age of Akra and Starchild Book Two: The City of Souls.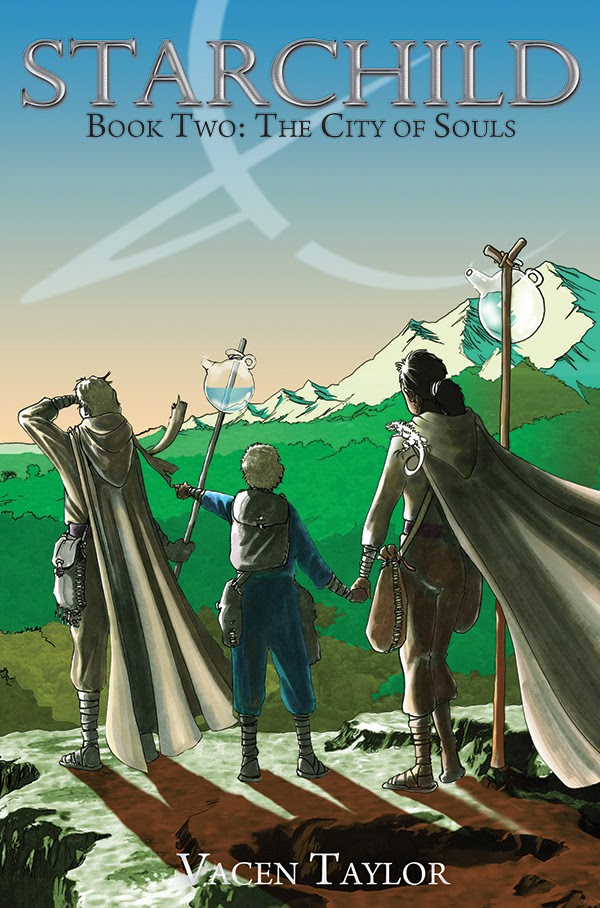 Now, here's the best part I get to tag four of my favourite authors to tell you all about their writing world.
I hand it over to the fabulous Jeannie Barker whose blog you can find here.
The wonderful Rebecca Fraser and her blog can be found here.
The amazing Karen Tyrrell whose blog you can find here.
And the very talented Simon Hay and his blog can be found here.